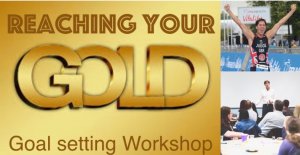 Bespoke Workshop
Client: AA Brinsley
Date: 15th July 2017
Time 9:30am till 4:30pm
Location:Derby
Specifics: Bring your own lunch
Cost: £20
Testimonial from the last workshop:

Course Description
World Champion, two times Gold medalist Steve Judge will run this course that will help you to find and achieve your dream, your vision, your goal…your Gold!
From his unique story Steve will share with you how he was told that he may never walk again following a near fatal car accident. Steve didn't lean on his excuses but instead set goals and worked towards them with drive, motivation and commitment. Through years of rehabilitation and training he eventually represented Great Britain and achieved World Champion status in Paratriathlon (swim, bike and run).
Who Should Attend
This course is ideal for Individuals and Entrepreneurs who want guidance on how to realise their vision and need practical and influential help on achieving their goals and their true Gold.
What will you learn
• How to achieve your Gold.
• You will be inspired and guided to find your true 'Gold' in your life.
• You will discover what 'Sub Goals' are required for you to work towards your Gold
• You will take away with you essential tools for you to work towards your Gold.
• You will be motivated to be the best that you can be.